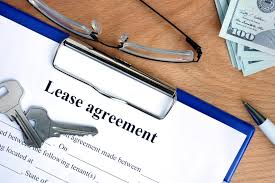 It's that time of year again when many kids are returning to college.  Depending on the college many students may no longer have room and board and need to find housing elsewhere.  Back when I was in college, the university I attending only offered rooming for freshman.  So at the young age of 19 I was out to find an apartment in the city.
Now if your a young college student or out to rent an apartment for the first time there are so many key questions you should ask before you sign the lease.  It takes time to find the right place to rent and you want to make sure you know exactly what you are signing yourself up for.  Take time to read your lease even though you think you can skim over everything.  Remember its a legally binding contract that you are signing.  If you have questions, speak up and ask.  Here are 9 great questions to ask before you add your John Hancock to that lease!
How long is your lease?
Most all lease terms are either 12 months long or month to month.  Its important to talk to your landlord or leasing office about these terms.  Ask them if there is a penalty for breaking your lease.  Though you may not be planning on breaking it, sometimes things come up at work that would require you to move.  Its good know what these terms are before hand.
Are utilities included?
Ask your landlord about what you are responsible for before signing.  If you are responsible for paying the water bill, that can drastically change the money you are paying for rent.  Most landlords or rental properties take care of that but its always good to know.  Also ask if heat, electricity, cable and internet are included with the rent as well.
Are pets okay?
Do you have an animal or planning on getting one in the near future?  If this is your case you need to make sure you find a home that will allow animals.  They may have a list of certain animals that they allow and also may charge you an extra monthly fee incase of damages.  If you require a service animal this is another situation.  You are entitled to certain accommodations and its always best to contact legal advice prior to leasing to know your rights.
Where do I park my car?
Parking is a big part of your new home.  Where you park your car could make or break the rental you are about to move in.  Ask if there is parking and if so where?  Some places may require garage parking for a fee.  Find out if its monthly or for the year.  You don't want to be hit with added expenses that you where not planning on after you move in.
When is rent due?  How do I pay it?
If you are moving into your new place on the 19th of the month, find out if you will be paying it every month on the 19th.  These are little questions that make a big difference.  Most places will have you pay on the 1st of the month to make it easier.  Also find out how you pay.  With so many ways to pay bills these days its good to know.  Check, cash, money orders, direct deposit, venmo, and paypal are great options to pay to rent.
Do you get your security deposit back?
A good question to ask is about your security deposit.  Many places that you rent require one with your first months rent.  The treatment of security deposits is typically regulated by law, but in general, security deposits are refundable as long as the property is in good condition when you move out.  Your landlord may, however, be entitled to withhold part of your deposit for damages that were incurred during your stay or if you break the lease.  As long as you keep the rented space in good condition, you should have nothing to worry about!
Is maintenance available?
If you are looking into renting in apartment complex they have maintenance on hand that are available to come and fix problems within a couple of hours (depending on the time of day or holiday)  This is important to know that you are required to fix these problems yourself.  That is what maintenance is there for.  If you are renting in a home, ask your landlord about this proper to lease signing.  If they don't live in the house they may ask you to pay for it at the time and they will reimburse you.  Settle on an amount of time that your landlord has to pay you for repairs and make sure you add that to the lease.
Are the amenities included?
You find the best place that you are ready to call home.  It has a pool, fitness center, washer/ dryer, and club house.  Ask if these are included in the rent or if they charge an extra fee.  These amenities are most of the time included in apartment complexes.  If you are looking into renting an apartment in a multi family that has a washer and dryer ask if they are coin op or free.
Customizing your house!
Ask about making your apartment more like your home.  Ask before about painting walls.  Some land lords will allow you to paint as long as you hire a professional to do paint it and to you may be responsible for returning it to its original color.  Are you allowed to hang pictures with nails? Or do they only allowed command hooks?  A good rule of thumb to follow is as long as you leave the apartment in the same exact condition as it was when you moved in, you are good to go!
No matter what your landlord or leasing consultant says, make sure you read the entire lease. Yes, it will be time consuming, and no, it will not be particularly interesting, but it will make you well aware of the expectations the owner has for you as well as the things you can expect from your property owner.