Black ice can happen so quickly to the roads, by the time you realize it can be too late. But what is it exactly? Black ice, sometimes called clear ice, is a thin coating of glaze ice on a surface, especially on roads. The ice itself is not black, but visually transparent, allowing the often black road below to be seen through it.  Driving on black ice doesn't take skill, it takes common sense. Black ice can be so dangerous because it forms when it's raining and the air is at or below 32 degrees Fahrenheit at the surface, according to AccuWeather Senior Meteorologist Andrew Mussoline. The ground temperature causes the precipitation to freeze upon impact, thus creating ice. Sleet and the refreezing of snow or water can also generate black ice.  Here are some great tips from wikihow.com on navigating the icy roads.
Know where to expect black ice.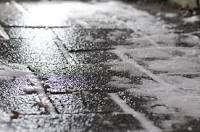 Black ice usually forms just about the freezing point. Sometimes in frigid weather conditions on highways, black ice will form due to the heat of tires on the road coupled with the freezing temperature. Keep an eye on the weather and highway reports.
Black ice forms most commonly at night or in the early morning when the temperatures are at their lowest, or when the sun isn't around to warm the roads.
Black ice tends to form on parts of the road without much sunshine, such as along a tree-lined route or a tunnel. It will also form more frequently on roads that are less traveled on.
Black ice forms readily on bridges, overpasses and the road beneath overpasses. This is because the cold air is able to cool both the top and under the bridge or overpass, bringing about faster freezing.
Know when to expect black ice.
Black ice tends to form in the early morning and evening. During the daylight hours, the road is usually warmer and less likely to create black ice. But remember: less likely does not mean "never". Always be prepared for the possibility of encountering black ice.
See the signs of black ice. If you are driving and see cars suddenly swerve for no apparent reason, black ice is a likely cause.
Know how to see black ice – sometimes.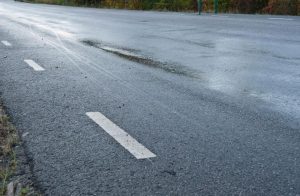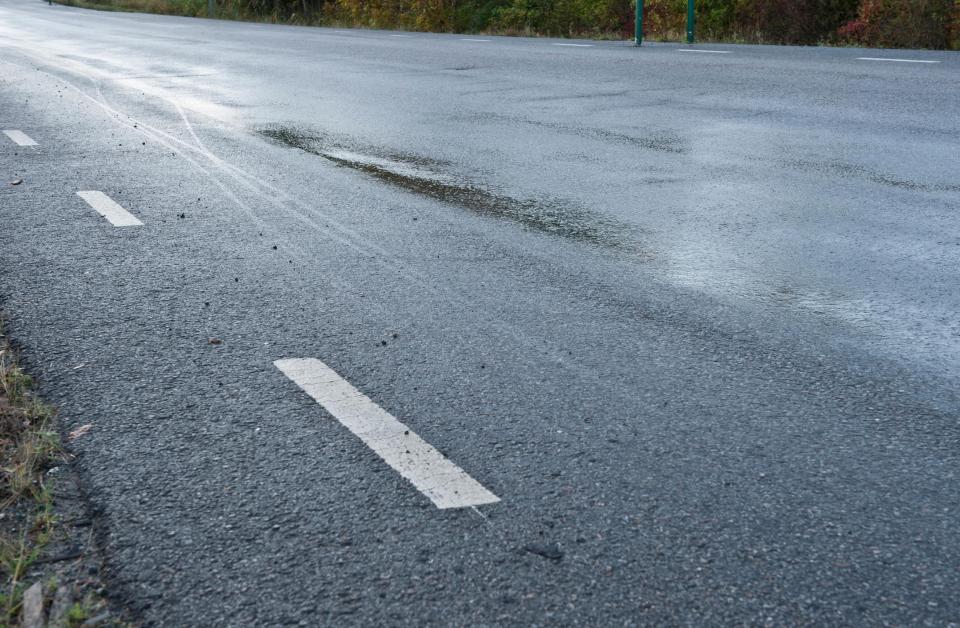 While black ice is transparent, it can sometimes be seen in the right lighting conditions – if you are looking for it. Black ice almost always forms in very smooth, very glossy sheets. This glossy surface is your indication of potential black ice. If the majority of the road you're driving on appears a dull black color, but the patch just ahead of you appears shiny, you may be about to drive onto the black ice – don't panic, follow the instructions below.
This technique for helping to detect black ice won't work at night, but dawn, daylight, and dusk all offer enough light to see.
If you are unfamiliar with this glossy appearance, think of a nice new car's black spray paint compared to an older, un-kept car's black paint job.
You won't always be able to see black ice, but looking for it can't hurt. It may also help you to stay focused in less than ideal driving conditions. Just be sure to keep your eyes on the rest of your environment as well.
Deal with a black ice encounter.
If you do hit black ice, your first reaction must be to remain calm and avoid overreacting. The general rule is to do as little as possible and allow the car to pass over the ice. Do not hit the brakes, and try to keep the steering wheel straight. If you feel the back end of your car sliding left or right, make a very gentle turn of the steering wheel in the same direction. If you try to struggle against it by steering in the opposite direction, you risk skidding or spinning out.
At Farquhar and Black we want to make sure you are driving safe this winter season.  Call us today to make sure you have the right coverage on your auto policy.  If you are new to this area and need coverage click on this link for an auto quote.  We would love to help you with all your insurance needs!  car insurance quotes