Mass Real ID?  Mass Standard License ID?  Which one should you choose?  Up until this past year, when it came to renewing your license it was usually pretty simple.  The letter came in the mail letting you know it was about to expire and either you could renew online or some times you had to make a trip to the Registry of Motor Vehicles.  But its much different now.  So lets review it so you know what you need to do and choose.
If you're like me you probably have no idea what the difference is between your drivers license and the new Mass Real ID.  The new Mass Real ID is now a valid for federal identification and the Standard Mass License ID ( your Massachusetts license) will not be able to be used for federal identification.  So lets start at the beginning and walk you threw the process step by step.
Why did you receive this letter?
So like a mentioned above you will receive your letter in the mail stating that its time to renew your drivers license (Standard Mass License ID) or Real Mass ID license.  First thing you should do is go online to The Registry of Motor Vehicles and you will either complete the renewal form online or start a new online application.  Now because you may be renewing your license for the first time and changing it to a Real Mass ID license there are now new federal and state law requirements regarding documents.  When you start your online application process it will help you bring all the right forms of identification and documents to save you time.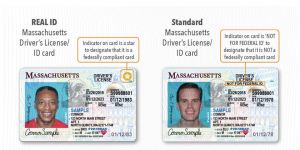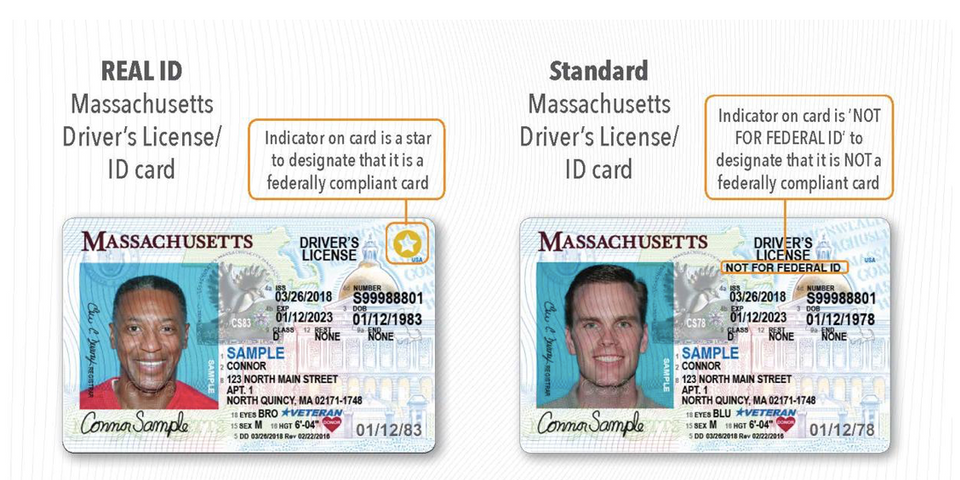 Documents that you may have to bring in all must be orginals, photocopies will not be accepted!  You will need proof of Massachusetts Residency.  This document must display residental address with your name.  You can not have PO box or "in care of".  They will not be accepted.  The following lists will provide more insight on what you can bring.  But note that for a Real Mass ID license you need to bring two of the following documents.  If you are only renewing for a standard Massachusetts license they only require one.
Proof of Lawful Presence & Proof of date of Birth
All documents must be valid and unexpired – choose one of the following
U.S. Passport or passport card
Orgianal or Certified version of U.S. Birth Certificate
Puerto Rican Birth Certicate must be issued after July 1, 2010
Permanent Resident Card
Consular Report of Birth Abroad issued by the Department of State
Temporary 1-551 stamp in Foreign Passport
Employment Authorization Document
Foreign Passport with a valid, U.S. visa
Certificate of Citizenship
Certificate of Naturalization
Re- Entry Permit
Refugee Travel Document
Proof of Social Security Number
SSN card which can not be laminated
W-2 form that displays your 9 digit SSN
1099 form that displays your 9 digit SSN
Pay stub and name with your 9 digit SSN
Name must match for REAL ID
If your name doesn't match the one that may appear on your legal documents, you must be able to prove your legal name change in order to qualify for a REAL Mass ID license.  You need to prove  one of the following
Marriage Certificate
Divorce Decree
Court Doucument
Massachusetts RMV – issued documents
Current License
Current Massachusetts ID card ( Liquor ID not accepted)
Current Learners Permit
RMV – issued mail dated within 60 days
State/federal/city/town/county agency-issued documents
1st class, government issued mail dated with 60 days
Current MA-issued professional license
Medicaid statement dated within 60 days
Current firearms card
Jury duty summons dated within 60 days
Court correspondence dated within 60 days
Property tax for current year
Excise tax for current year
Bills:Must be dated within 60 days
Utility bill (electric, telephone, water, sewer, cable, heat)
Credit card statement
Medical/hospital statement
Insurance bill (auto, meidcal, home)
Cell phone bill
Lease/Mortgage
Current lease/mortgage or similar rental contract
Mortgage statement dated with 60 days
Financial-related documents
W-2 wage and tax statement from immediate prior year
Current pension statement (401k, 457, SEP)
Current retirement statement
Pay stub dated within 60 days
Current SSA statement
Current installment loan contract (car loan)
Bank Statement (savings or checking account) dated within 60 days
School-issued documents
Official school transcript for current year
Official letter from school (proof of enrollment) dated within 60 days
Tuition bill for current year
Certified school record for current year
Insurance-related documents: Current year only
Auto insurance policy
Renter's insurance policy
Homeowner's insurance policy
For applicants under the age of 18
Alternative Residency Affidavit
Save time when you get in line!  If you are missing a document you will not be successful in this renewal process.  All of your documents need to be original.  Any photocopies or laminated documents will not be accepted.  You can go to http://mass.gov/ID and print out this checklist to make it easier.  Then this will help you make sure you have everything you need upon renewal.  Also present this checklist and the documents selected with your completed application to the service center the day you go!
Okay well now that we have everything you need to bring covered what to you need to do next?  Like we talked about about go online to http://mass.gov/rmv first.  Select either Renew my License or Renew my Mass ID Card then follow the instructions.  Choose the type of card you want.  But remember that your standard Massachusetts drivers license will not be allowed to be used as a federal form of identification.
The website will help you decided which type of card if right for you and which documents you will need.  If you decide and choose a standard Massachusetts drivers license you may able to summit everything online to complete your renewal.
If you decide to want to do the REAL ID drivers license you must
Start the renewal application online
Print your application summary document
Visit the RMV with your application summary document, required documentation, and fee to complete your renewal.
We know this all might be really overwhelming.  Especially if this is all new to you.  Which is really new to all of us.  Call us today and speak to any of our account managers to help you through this process.  We are here for you 24 hours a day if you go to our website!