I know what you are thinking, its still August why are we talking about fall?  But the truth of the matter is how fast did this summer just fly by?  August is pretty much over, kids are back to school next week, and honestly I was at the stores yesterday and Halloween decorations were already lining the aisles.  So lets face it, fall is here.
I love the autumn season.  Cooler mornings, darker mornings, the changing of the leaves, and pumpkin everything.  But the list of fall chores does not get me excited for the season at all.  Sometimes the checklist can seem like its never ending but here is 7 great and easy tips for getting your home fall ready.
Fertilize your lawn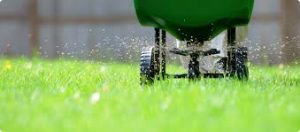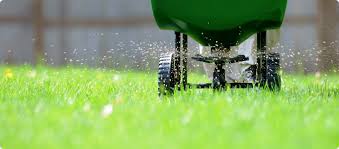 If there is one thing we have learned being homeowners is that we can save on cutting our own lawn.  Homeowner have tons of expenses, but we have found that doing our own yard doesn't have to be one of them.  With that being said, we do splurge and get the grass fertilized in the fall.
Its a small expense in the grand scheme of things but it helps for the spring ahead.   Fertilizing your grass in the fall allows the new growth of both the blades and the the roots, so your grass will be thick and healthy again before the winter's cold temperatures come.
Get your HVAC serviced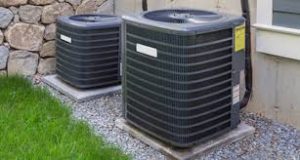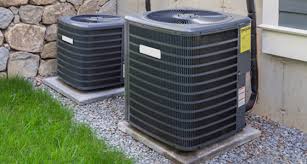 Your air conditioning has been pumping non stop all summer keeping your house cool.  Come to think of it has it even turned off?  Fall is a great time once its turned off to have serviced.  Many companies will come out and do it for you but if you are handy YouTube has tons of videos on how to the clean the coils yourself.
If you're done using the AC for the year, cover the outdoor unit to keep debris and ice from damaging your system.  Then move indoors and switch your thermostat from cooling to heating. Change the filter, too.
Clean your gutters!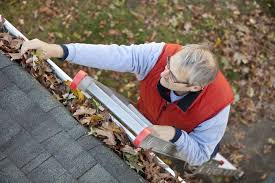 I have talked about gutters in previous blogs before and the importance of keeping them clean.  I feel like a broken record but I will say again till everyone hears me loud and clear!  DON'T FORGET TO CLEAN YOUR GUTTERS!
Gutters serve a huge purpose to your home for protecting your foundation and sometimes your basements!  When your gutters are clogged with debris and leaves there is no where for water to go.  So get a ladder and pull debris out of the gutters by hand.  If you have a one-story house, you can use this leaf-blower attachment to blast the stuff.  If this is something you are not able to do yourself, there are companies that will do this for you!  Hire a gutter cleaning company or a local handy man — they're worth it.
Drain your lawn equipment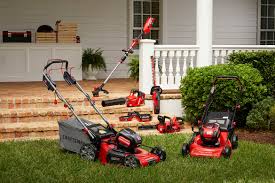 Over time, unused fuel goes through chemical changes that create deposits and destroy your lawn equipment.  Removing the gasoline and oils used in your lawn mowers, leaf blowers, and edgers with help them run at there full potential when spring comes around again.
Now that fall is here its also a great time to take the blades off your lawn mower and have them sharpened for spring!
Turn off your sprinklers and drain your faucets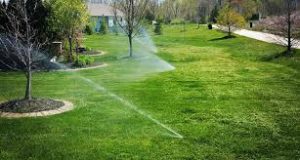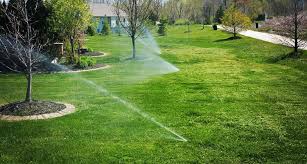 Outdoor hoses and pipes will burst if they're full of water when the temperatures plunge below freezing. While replacing a garden hose isn't that difficult, it's incredibly expensive to dig up your lawn's sprinkler system to deal with burst pipes.  The company that installed your sprinkler system or your lawn care specialist can come and do this service for you.
If you are able to do it yourself it can be rather simple.  A great resource is like I mentioned above is YouTube if you are doing it for the first time.  A good rule of thumb is to disconnect your outdoor hoses and turn the water off.  Then open your outdoor faucets and sprinklers till they drain all the water out.  This will prevent frozen pipes in the dead of winter.
Cleaning your chimney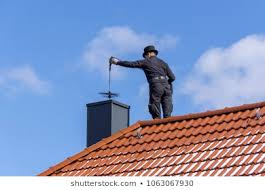 Chances are you haven't used your charming little fireplace since last winter and you used it quite often.  And there is nothing is charming about filling your home with soot, smoke, and carbon monoxide because your chimney isn't working correctly.  Even gas fireplaces need an inspection to ensure the pipe is free of cracks that can allow smoke to enter your home. This job is best left to pros. The cost runs around $100-200.
Prep your snowblower and stock up on Ice Melt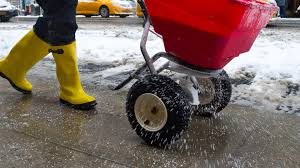 I know what you're thinking, why are we jumping to winter when we are talking about fall.  But more times than not, once you need to use your snowblower its too late for a tune up.  So use the fall months to have your snowblower serviced and gassed up so when the first storm rolls in your now scrambling to fix things and make sure they work.
Stocking up during the fall months on ice melt makes it easier then running from store to store the night before a big storm.  Amazon is always everyone friend, ordering from there it gets delivered right to your door!
Don't delay on these easy home tasks.  None of them are hard, maybe just a little time consuming.  Putting some of these things off could end up costing you as a homeowner thousands of dollars.  So set aside a couple of weekends and check these things off your list!