It's that magical season again and its here big time.  We are talking about flu season.  This can effect thousands of people from late fall to early spring.  I am not here to talk about the great debate of get a flu shot or not but simply what is the proper way to deal with the rules for work and school.
Influenza (also known as flu) is a contagious respiratory illness caused by influenza viruses that infect the nose, throat and lungs.  Flu is different from a cold, and usually comes on suddenly.  Each year flu viruses cause millions of illnesses, hundreds of thousands of hospital stays and thousands or tens of thousands of deaths in the United States.
So the question becomes when you stay home from work/school or when do you go.  There is many rules to follow to not infect your entire office.  Colds/Flu are the most contagious during the first 48 hours.
Flu Symptoms
Influenza (also known as flu) is a contagious respiratory illness caused by flu viruses. It can cause mild to severe illness, and at times can lead to death.  Flu is different from a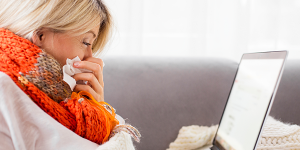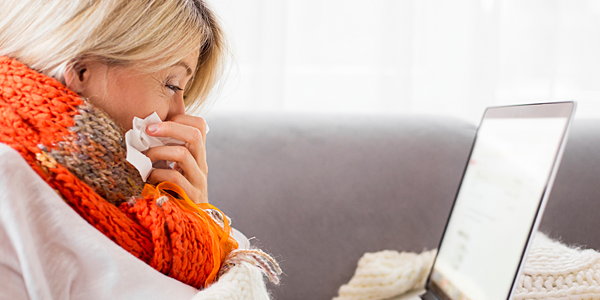 cold.  Flu usually comes on suddenly.  People who are sick with flu often feel some or all of these symptoms:
Fever* or feeling feverish/chills
Cough
Sore throat
Runny or stuffy nose
Muscle or body aches
Headaches
Fatigue (tiredness)
Some people may have vomiting and diarrhea, though this is more common in children than adults.
Flu Complications
The CDC states, most people who get flu will recover in a few days to less than two weeks, but some people will develop complications (such as pneumonia) as a result of flu, some of which can be life-threatening and result in death.
Sinus and ear infections are examples of moderate complications from flu, while pneumonia is a serious flu complication that can result from either influenza virus infection alone or from co-infection of flu virus and bacteria. Other possible serious complications triggered by flu can include inflammation of the heart (myocarditis), brain (encephalitis) or muscle (myositis, rhabdomyolysis) tissues, and multi-organ failure (for example, respiratory and kidney failure). Flu virus infection of the respiratory tract can trigger an extreme inflammatory response in the body and can lead to sepsis, the body's life-threatening response to infection. Flu also can make chronic medical problems worse. For example, people with asthma may experience asthma attacks while they have flu, and people with chronic heart disease may experience a worsening of this condition triggered by flu.
Do You have a cold?  Or the Flu?
| Signs and Symptoms | Influenza | Cold |
| --- | --- | --- |
| Symptom onset | Abrupt | Gradual |
| Fever | Usual; lasts 3-4 days | Rare |
| Aches | Usual; often severe | Slight |
| Chills | Fairly common | Uncommon |
| Fatigue, weakness | Usual | Sometimes |
| Sneezing | Sometimes | Common |
| Stuffy nose | Sometimes | Common |
| Sore throat | Sometimes | Common |
| Chest discomfort, cough | Common; can be severe | Mild to moderate; hacking cough |
| Headache | Common | Rare |
When do you return to the office/school
You know your body best.  But as a rule of thumb you should always remember that CDC recommends that you stay home for at least 24 hours after your fever is gone except to get medical care or other necessities. Your fever should be gone without the need to use a fever-reducing medicine, such as Tylenol.
In general, healthy people usually get over a cold in 7 to 10 days.  Flu symptoms, including fever, should go away after about 5 days, but you may still have a cough and feel weak a few days longer. All your symptoms should be gone within 1 to 2 weeks.
If your worried about missing work, call your boss.  See if there is anything you can do from home.  You may be feeling better but you could still be contagious.  Working from home is a great option.